Your future as an
International
Welding Engineer
Start your training now and move up!
Show your skills as a welding engineer:
Start your training as a welding engineer and boost your engineering career even further. You can look forward to new and exciting activities in both planning and implementing your skills. Impress employers by increasing your responsibility for projects and continue moving up the career ladder.
Internationally recognised
(IWE)
Demand for IWE-qualified welding and joining professionals is huge
Very good prospects of becoming a manager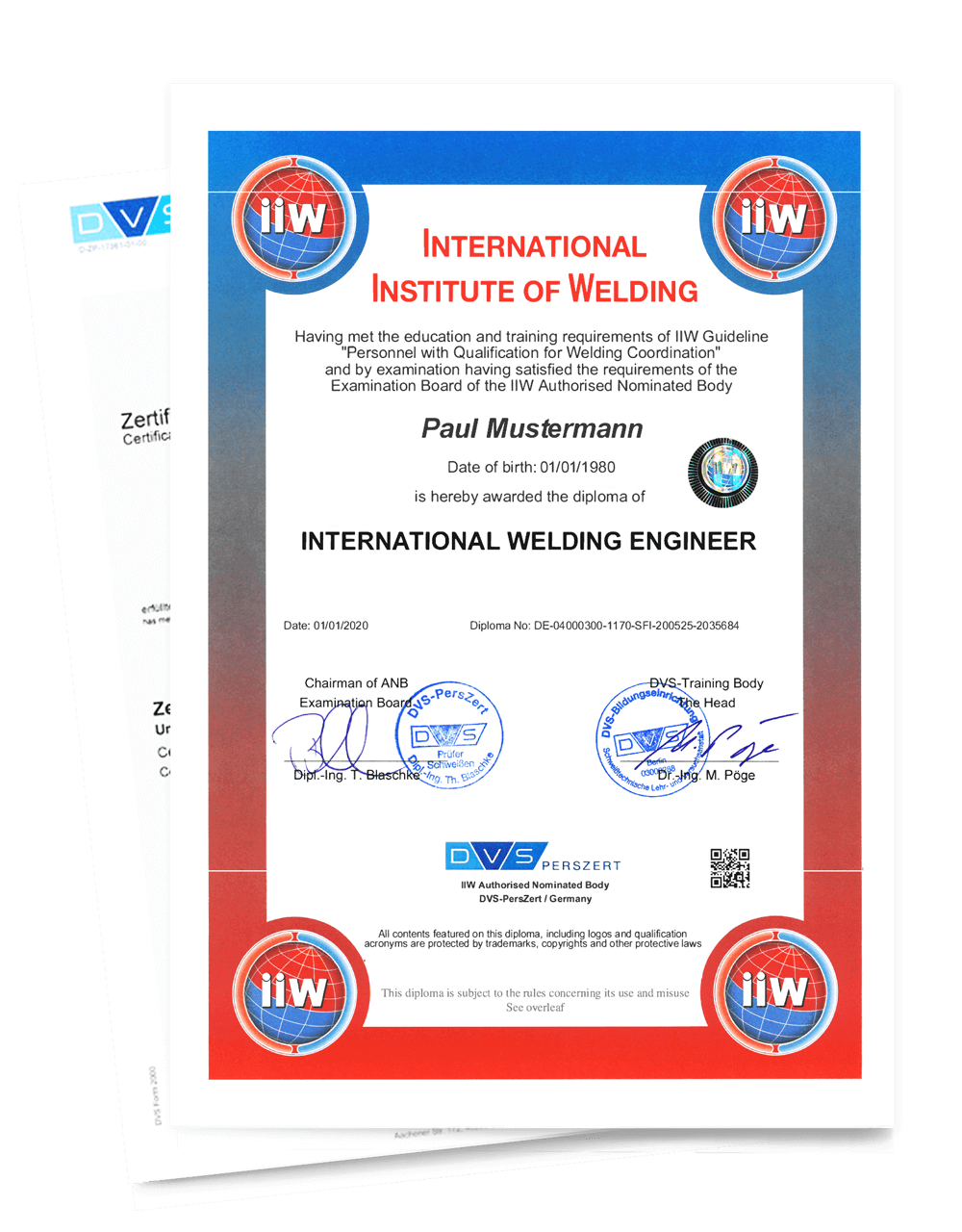 Download now and find out more!
What does a welding engineer actually do?
How do you become a welding engineer?
How long does it take to train as a welding engineer?
How much does it cost to become a welding engineer?
What are the career prospects and opportunities?
Fill in the fields below and download our free information material
THANK YOU!
We have received your request for more information on further training to become a welding engineer.
We have received the following data from you:
Title:
First name:
Last name:
Email:
You will shortly receive an email in which you must confirm your email address.
Regards,
Your GSI SLV Team
Your path to becoming a welding engineer
e-Learning Available
PART 1:
Theory
including welding processes, material science and design
PART 2:
Practical Exercises
including welding processes
e-Learning Available
PART 3:
Theory
including welding processes, construction and application engineering

e-Learning

No travel time or costs

No stressing about scheduling or time

Take the classes whenever you want
One Profession - Many Sectors
Training to become a welding engineer opens up career opportunities in many different sectors, such as steel and rail vehicle construction, offshore and aerospace technology, pipeline engineering, as well as plant engineering for the chemical industry and mechanical and automotive engineering.
Your way to becoming a welding engineer
Study of engineering in 5 years
IWE training in 448 hours of training
Receive an employment contract in a suitable company after just a few weeks
FAQ International Welding Engineer
How long does it take to train as a welding engineer?
You can structure the IWE (International Welding Engineer) training to suit your needs. The training takes a total of 448 hours and is divided into 3 modular parts and 4 topical focus areas.
How much does it cost to train as a welding engineer?
The training at the SLV (Schweißtechnische Lehr- und Versuchsanstalt – Welding Training and Research Institute) costs at least €9,975.
What kind of content can I expect?
Part 1 and Part 3 – Theory.
Focus module 1 – Welding processes and equipment: autogenous technology, thermal cutting, power sources, shielded metal arc welding, metal inert gas welding, submerged arc welding, electric resistance welding, specialised welding methods, thermal spraying, soldering, jointing, automation.
Focus module 2 – Materials and their behaviour in welding: steel production, alloying, heat treatment, cracking, corrosion, wear, non-ferrous metals, metallography.
Focus module 3 – Construction and design: strength of materials, calculating the weld seam, design, construction, behaviour of welded connections at different loads and fracture mechanics.
Focus module 4 –Manufacturing and application engineering: quality assurance, welder qualification test, welding procedure qualification, occupational health and safety, residual stresses and deformation, workshop equipment, non-destructive testing of materials, efficiency, repair welding, case studies.
Part 2 – Practical exercises. Oxy-fuel welding, shielded metal arc welding, metal inert gas welding, gas tungsten arc welding, introduction to other special welding processes.
What are the entry requirements for the welding engineer training?
To be accepted onto the welding engineer training course, you must have a Master's degree in engineering or a Bachelor of Engineering or a Bachelor of Science in a technical subject area. The relevant certificates must be issued by an institute of higher education (university), an institute of technology (university) or a university of applied sciences.
What kind of qualification will I receive on completing the training?
On passing the exam, participants receive the International Welding Engineer (IWE) diploma.
What will be my responsibilities as a welding engineer?
The tasks involved with welding technology, and also therefore the responsibilities involved, are regulated by DIN EN ISO 14731. These include technical inspections as well as compliance with the design requirements or quality and acceptance requirements for weld seams, but also the inspection of subcontractors, the qualification of the welding processes and the personnel, the monitoring and inspection of the welding work itself etc.
In addition to these standard specifications, there are also other requirements involving responsibility for employees, fulfilment of business operator obligations, compliance with occupational health and safety regulations, etc.
What are the benefits of training to become a welding engineer?
You'll no longer be just one of many, you'll be "the one". Becoming an International Welding Engineer makes you irreplaceable. While companies usually have plenty of engineers, there's often only one qualified welding engineer. You also have a good chance of becoming a manager with an attractive pay rise.
How do I become a manager?
Many standards stipulate that welding is carried out only under the supervision of a welding supervisor..
This results, often more quickly than expected, in being appointed welding supervisor, and therefore becoming a manager.
As a manager, you interact with many other people, including your direct reports, employer, customers and even authorities. In DIN EN ISO 9001, these are also generally referred to as stakeholders.
Is the training also internationally recognised?
The International Welding Engineer training is the same qualification wherever it is gained in the world and is recognised in over 60 countries. Member countries are listed on the homepage of the IIW (International Institute of Welding), www.iiwelding.org.
How do I become a certified welding engineer (CIWE)?
Some countries require welding supervisors to be certified. With proof of two years of professional experience, you can apply to the SLV to become a Certified International Welding Engineer (CIWE). To apply to extend this qualification after 3 years, proof of 48 hours of further training must be provided.